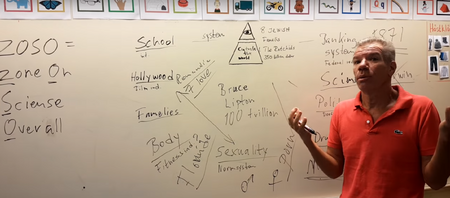 Fullständig titel: Trying to give the whole picture how 8 Jewish families rules the world är en föreläsning av Lennart Bladh, publicerad på YouTube i oktober 2016 i tre delar.
Föreläsningen är inspelad i ett klassrum och framförs på engelska. Vem som står bakom kameran är okänt men förmodligen rör det sig om en f.d. kollega.
Innehåll
Edit
I föreläsningen redovisar Lennart, med hjälp av ritade pilar och ett levande kroppsspråk, en övergripande teori om hur allting i Systemet hänger ihop.
Enligt Lennart finns kopplingar mellan bland annat skolväsendet, sexualitet, Hoolywood, anaerob träning, banksystemet, Darwin, pornografi och familjen Rothschild. Tankarna kan spåras tillbaka till Lennarts intresse för internetbaserade konspirationsteorier, träning och utbildningsfrågor. På tavlan syns förkortningen Zoso för det nya system Lennart vill bygga.
Enligt den teori som framförs i denna föreläsning styrs systemet av "US Corporations" sedan år 1871. Genom att sprida en bild av att romantisk kärlek är den enda enda kärleken (när det i själva verket existerar sju sorters kärlekar) försöker Hollywood kontrollera människorna. Ett sätt att motverka kontrollen är att ägna sig åt periodisk fasta och att öppna sitt tredje öga.
Föreläsningen spelades in före tiden då Lennart insett att Systemet sannolikt styrs av reptiler och att Alien Mantis kämpar för ett nytt system. 
Del 1: Arkiv
Del 2: Arkiv
Del 3: Arkiv
Ad blocker interference detected!
Wikia is a free-to-use site that makes money from advertising. We have a modified experience for viewers using ad blockers

Wikia is not accessible if you've made further modifications. Remove the custom ad blocker rule(s) and the page will load as expected.