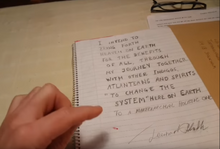 Lennarts "Blood Over Intent" är Lennarts manifest, signerat med blod och energi. Det är en text skrivet på ett till synes vanligt skrivpapper, men med det att Lennart signerade det med sitt blod antas det ha överkommit starka energikrafter. Manifestet är en slags förklaring, eller kanske ett utlåtande, om exakt vad Lennart vill åstadkomma. Att gå samman med alla indigos, atlantisar, och andar, och slutligen ändra systemet, och ersätta det med ett holistiskt och matriarkaliskt. Manifestet blev signerat den 18 februari. 
Transkribering av manifestet.
Edit
I INTEND TO BRING FORTH HEAVEN ON EARTH FOR THE BENEFITS OF ALL, THROUGH MY JOURNEY WITH OTHER INDIGOS, ATLANTEANS, AND SPIRITS "TO CHANGE THE SYSTEM" HERE ON EARTH TO A MATRIARCHAL HOLISTIC ONE.
///Lennart Bladh